MIKLÓS
RADNÓTI
[
biography
] - [
quotes
] - [
publications
]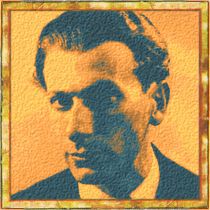 he poem gains its form like the
raindrop. The water gathers,
takes form, lengthens,
then it falls off and while falling,
it forms a perfect drop.
(Miklós Radnóti)
1909 born in Budapest
1929-34 While studying French and Hungarian at the University of Szeged, he joined the Art Forum of Szeged Youth, an association founded by left wing intellectuals and artists.
1934 Obtained Ph.d. in Hungarian Literature. He moved to Budapest, got married and became a frequent contributor to Nyugat (Occident), the most prestigious literary journal, as a member of its "third generation".
1937 Won the prestigious Baumgarten Prize.
1931-39 Three visits to Paris.
1938 According to anti-Jewish measures he was identified as a Jew and called up to a labour battalion for three months (in 1940) then ten months (1942-43).
1943 Converted to Catholicism.
1944 Deported to the labour camp in Bor (Yugoslavia), forced to march towards Germany, and shot dead by soldiers of the armed forces near a West-Hungarian village, Abda.
One of the most eminent poets of the 20th century, Radnóti translated widely from classical Greek and Latin as well as English, French and German poetry.
"He framed poetic innovation in the pattern of the lyrical tradition, combining the classical forms of the ancients with modern sensibilities. Essentially, the more chaotic and barbaric the age, the tighter and more refined became his poems' designs. Some poems, cast in ancient meters, ring with prophetic power. Others, in delicate invented forms, create the most exquisite crystalline tones. They produce magic, conjuring up the unprecedented without becoming obscure." (Zsuzsanna Ozsváth)
[
biography
] - [
quotes
] - [
publications
]